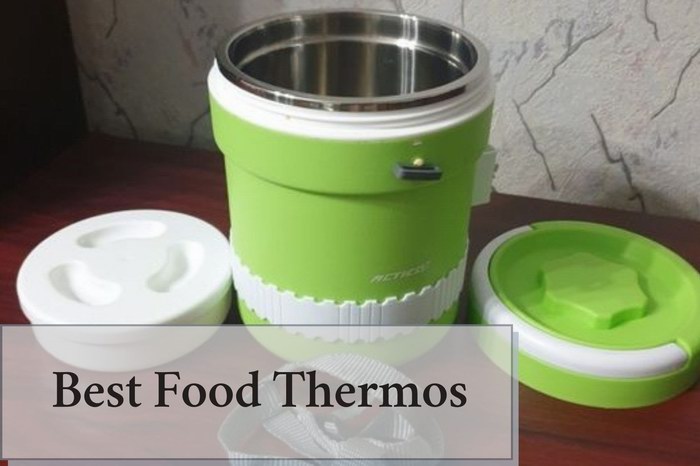 If you travel a lot and prefer to have hot homemade food on the go, then you definitely need to get the best food thermos you can find. It is very important to preserve your lunch or maybe even dinner fresh and warm so that you can enjoy it anytime you like without worrying whether it might have gone bad. It's important to know that not all vacuum thermoses are the same. There is a huge difference between cheap and expensive ones. A good thermos ensures quality and safety of your food, so this is not a thing to scrimp on. Fortunately, there are many decent products on the market. You just need to know how to choose the right one.
View Comparison Chart
Frequently Asked Questions About Best Way to Keep Food Warm
Who doesn't want to enjoy steaming hot homemade lunch at work, at school or on a trip? Today it is easy thanks to a wide range of insulated food containers and flasks available on the market. However, not all thermoses are the same. Vacuum insulated ones are the best. In contrast to foam-insulated thermoses the former show better performance at temperature retention. Naturally, in order to use vacuum as insulator a thermos or flask must be made of stainless steel, not plastic.
Most of the manufacturers of thermo food containers and flasks use 18/8 grade stainless steel. The numbers indicate percentages of chromium and nickel in the alloy. This is the optimal grade, which ensures that the product is protected against oxidation (rust) and corrosion. It is also the most common one among high-quality kitchenware. 18/10 grade steel is even better, but it's not that popular and is usually more expensive.
To sum up, vacuum insulation and premium grade stainless steel are the most important features of a good thermos. Aside from that you might also want to consider the following aspects.
What's the best food thermos like?
The main characteristic of a good thermos is quality of insulation. Most of the modern thermoses have vacuum between inner and outer walls as a means of insulation. You should also pay attention to the quality of materials. Stainless steel is the most widely-used material, both in inner and outer reservoirs. The inner part of the vacuum thermos can be made of glass as well. This material is absolutely hygienic, but rather fragile and therefore less popular than stainless steel. The lid of a thermos should also be insulated (usually with foam, not vacuum).
Is there a difference between a food thermos and a thermos for beverages?
Both food thermoses and beverage flasks have similar constructions. They use the same vacuum insulation technology to keep the contents hot or cold. The main difference is that food thermoses have wider mouths as compared to flasks, so that food can be easily put in and taken out. Many food thermoses come with spoons for added convenience.
How to use a thermos for hot food?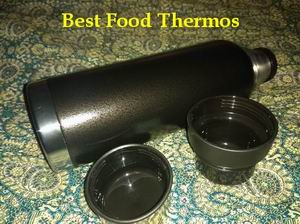 It's very simple. First, you should make sure the inside of the flask is clean. Then you fill it up with your favorite homemade meal (it should be freshly cooked and hot) and screw the lid on tightly. To achieve a better result you can fill the thermos with boiling water and let it rest for about 10 minutes and pour it out before putting your food in. In that case the meal will stay hot longer. Nevertheless, you should not keep your food in a vacuum thermos or flask longer than the time specified by the manufacturer. Otherwise, it might go bad and cause food poisoning. After you're done with the meal, you should clean the thermos thoroughly and let it air dry. Avoid closing the lid if the thermos is still wet inside to prevent it from developing bad smell.
How can I keep food warm when traveling?
If you travel a lot, especially in the wintertime, you need a reliable thermos or flask that will surely retain heat for a very long time. Some manufacturers have special series of products designed to address travelers' needs. Such vacuum containers and flasks can keep food and drinks hot for up to 12 or even 15 hours.
We have picked seven vacuum food thermoses and flasks that are high-quality, convenient and affordable. Just like any other product, they all have their pros and cons, but at large they are among the best options on the market. So let's take a closer look at them.
Capacity
This is probably the first thing you pay attention to when you set your mind on buying a food thermos or a flask. Of course, you would want to have a thermos that is just of the right capacity – not more, not less. The choice really depends only on your needs and preferences. How large of a serving do you want to carry with you? Are you getting a thermos only for yourself or do you need the one that can be taken to family picnics to serve food or beverages from it? Is this a thermos for an adult or a kid? Answering these questions will help you make a decision. Fortunately, food thermoses and thermal flasks come in so many different sizes that you will definitely find the right one to suit your needs.
Temperature retention
Most vacuum flasks and thermoses have approximately the same temperature retention capabilities. As usual, it's 5-6 hours for hot food and around 12 hours for cold. In a regular scenario, when you just need to take hot food for lunch at work (or to send your child to school with a hot lunch) this is more than enough. However, if you leave home very early, have a hectic schedule with no fixed lunch time or travel a lot, you might need a thermos with better heat retention. There are vacuum flasks that can hold heat for up to 15 hours. They are usually more expensive but are worth their money.
Safety
Your vacuum thermos is a container where your food will stay for 5 to 10 hours. Thus, it must be safe, i.e. not to contain any harmful elements, such as BPA, phthalates, and others. Responsible manufacturers make their thermoses and flasks only with food-safe materials, including stainless steel, silicone, polypropylene and other types of safe plastic. If you feel unsure about safety of plastic when it comes in contact with hot food, you can choose a flask that is all stainless steel on the inside.
Wideness of the mouth
This characteristic usually defines how convenient it would be for you or your child to eat out of the flask. It's always better to have a thermos with a wide mouth, unless it has a lid that can be used as a bowl.
Weight
Before buying a vacuum thermos, you should make sure you will feel comfortable carrying it around. This is especially important when you are getting one for your child. Most vacuum thermoses and flasks are not too heavy, but there are some extra-durable models with thick walls, which are not very appropriate for everyday use.
Ease of use
To have only positive experience with your vacuum thermos or flask you should choose the one that is user-friendly. What does that mean? First of all, it should be easy to unscrew. The lid should be large enough to provide a good grip (better yet textured or even with dents). If it's a large flask, it should have a handle to be carried by.
Cleaning
To stay hygienic and safe it is important that your vacuum thermos receives proper cleaning after each use. The flask should not have inner seams or other tricky spots, which will be hard to clean. This is especially important if a particular thermos can only be cleaned by hands. However, some vacuum thermoses are dishwasher safe and that might be a significant advantage.

1. Stanley Adventure Vacuum Food Jar – Great Thermal Container to Keep Food Hot While Travelling
Stanley is a renowned manufacturer of heavy-duty vacuum food containers and flasks. The name of this brand speaks for itself, so we expect its Adventure series thermos to be of an exceptional quality. This product is made of two-layer 18/8 grade stainless steel with vacuum insulation in between. The flask has a double lid. The inner plastic lid enhances insulation and prevents leaks. The outer lid can be used as a bowl, since it's quite deep. The space between the lids can hold small snacks, such as crackers or croutons.
The 24-ounce capacity is sufficient for carrying a full-size lunch or dinner. It is just the right size for adults but too large for children. Fortunately, Stanley offers similar vacuum flasks in smaller sized so you will surely find the one that will satisfy your needs.
This vacuum thermos has a minimalistic design. It looks very stylish with merely a brand's logo on its plain stainless steel surface. Such a design makes it completely gender- and age-neutral. The manufacturer claims that thermoses and flask of this series are extra rigid and can withstand rough handling, which is often inevitable during camping or working on a construction site.
Features and benefits
🏆18/8 grade corrosion- and rust-resistant stainless steel.

🏆Extra large 24-ounce capacity.

🏆75-inch-wide mouth.

🏆Double lid.
Pros
This is a product of a renowned manufacturer of vacuum thermoses and flasks.
Impressive temperature retention – 15 hours.
Leak-proof design.
A deep lid can be used as a bowl.
Stylish minimalist design.
Enhanced durability.
Lifetime warranty on all Stanley products.
Cons
The lid is very hard to unscrew since the exterior material is very smooth and does not provide a firm grip.
Quite heavy.
Verdict
A Stanley wide-mouth soup thermos is definitely one of the best food containers for lunch. People who want to have hot meals while at work or on a trip will surely appreciate it. It is very durable and can withstand rough use. At the same time, this vacuum flask is rather heavy and hard to open, and therefore not suitable for children.

2. Thermos 16 Ounce Food Jar – A Thermos Soup Container with a Spoon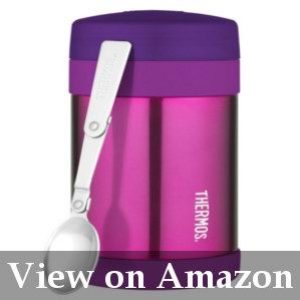 This capacious lunch jar from Thermos brand is made of stainless steel with vacuum insulation. It has a vibrant, eye-catching and at the same time functional design. Its rubberized base is non-slippery, which minimizes the chances that the jar would accidentally slide off the surface it stands on. Moreover, it is scratch-resistant. The lid is made of the same material, which provides a good grip so that you can open it easily.
This thermos comes with a foldable spoon, which can be conveniently kept under the upper lid. There are actually two lids, both of them made of plastic with no particular insulation. Nevertheless, Thermos vacuum food jar is able to retain hot temperature for 7 hours or cold temperature for 9 hours. The lid closes very firmly and ensures that no leakages occur even if the flask is turned upside down.
The flask has a wide mouth and therefore is quite easy to use and clean. Besides, this Thermos jar can be washed in a dishwasher.
Interesting Features
🏆16-ounce capacity.

🏆3-inch-wide mouth.

🏆Rubberized anti-slip base and lids.

🏆Stainless steel with vacuum insulation.
Pros
Product of a genuine Thermos brand.
Hot and cold food stays as is for up to 7 and 9 hours respectively.
Wide mouth.
Comes with a collapsible spoon.
Leak-proof closure.
Hassle-free cleaning – you can simply put it in a dishwasher.
Rubberized lid is easy to open.
Attractive design.
Cons
Pink color is quite specific and more appropriate for women and girls.
The part of the lid under which the spoon is kept is rather hard to pop open.
Verdict
The main advantage of Thermos food jar is a foldable spoon that comes with it. Having lunch on the go gets much more convenient since you don't have to carry a spoon with you and scratch your head over where to put it once you're done with the meal. Its eye-grabbing fuchsia and purple design makes a statement, but it is not suitable for everyone. Other than that, this is a regular food thermos which serves its purpose quite decently.

3. Stanley Adventure Vacuum Crock – The Only Thermos that Keeps Drinks Hot for 12 Hours. The Best Thermos for Hot and Cold Family Meals
This vacuum thermos will come in handy when you need to bring along a meal for several people. It is perfect for picnics and short trips. Its 3-quart capacity allows you to fill it with several full-size servings of hot or cold food or several canned beverages on ice. The vacuum crock has a large lid and a wide mouth so that one can conveniently fill it up and serve food from it. The lid is held down firmly by four latches that make the jar completely leak-proof.
This vacuum crock is able to keep its content warm for impressive 12 hours. Partially this is possible thanks to a foam-insulated lid which prevents heat from escaping. Cold food will stay cold for up to 15 hours.
The newest version of Stanley Adventure Vacuum Crock has a pressure-relief valve located in the center of a lid. This is a very important safety-related improvement. It helps relieve positive pressure, which otherwise can cause hot liquid to burst out of the container as the lid gets released.
Features and Specifications
🏆18/8 grade stainless steel.

🏆3-quart capacity.

🏆75-inch mouth.

🏆Temperature retention: 12 hours for hot food and 15 hours for cold.
Pros
Extra large capacity
Insulated lid.
Pressure-relief system.
Made to withstand heavy use.
Excellent customer service, lifetime warranty.
Easy to open and close.
Can be used as a slow cooker.
Cons
Plastic latches are not durable enough.
This thermos is rather bulky and has a limited range of application.
Verdict
Stanley Adventure Vacuum Crock is an ultimate solution for family picnics, hiking or camping trips, and long-distance traveling. It is very user-friendly and retains temperature for quite a long amount of time. On the other hand, it's rather bulky, so unless you specifically need a large vacuum thermos to carry food for a group of people, you should rather get something more compact.

4. Emsa "Mobility" Food Flask – A High-Quality Stainless Steel Flask. The Best Vacuum Flask for Keeping Liquids Hot
Emsa Mobility food flask is an enhanced alternative to a lunch box. It is quite large and can be used as a serving pot for take-out meals. Alternatively, you can fit in it two separate food containers to enjoy a two-course lunch.
The flask itself is made of high quality stainless steel. It has double walls with vacuum space in between that provides insulation. You can rely on it to keep your hot food hot for 6 hours and cold for 12 hours. Unlike many other thermoses, this flask has a plastic (polypropylene) insert, which can be washed in a dishwasher or put in a microwave to heat up the food.
The Mobility vacuum flask has a plastic lid and a base. The lid is slightly grained, so it won't be too hard to unscrew it. The insert has its own lid that keeps the contents safely inside. This flask thermos can hold even soups and beverages since it is completely leak-proof.
For added convenience, this vacuum flask is equipped with a wide handle, which tilts all the way down to provide unrestricted access to the contents. The mouth of the flask is rather wide, so it is easy to eat out of or serve from it.
Additional Information
🏆Premium 18/10 grade stainless steel.

🏆5-ounce capacity.

🏆Temperature retention: 6 hours for hot food and 12 hours for cold.

🏆Comes with a plastic insert.
Pros
Large size is suitable for several servings of food.
The flask can hold up to two separate compartments, so you can bring along different types of food.
The insert is dishwasher-safe and can go in a microwave.
Once the insert is taken out the flask is very easy to clean.
Convenient handle.
Leak-proof design.
Cons
You can't take it on long trips since it doesn't retain hot temperature for a very long time, only 6 hours.
Verdict
Emsa Mobility Vacuum Food Flask might come in handy when you go on a picnics or a short trip and need to bring along food for a small company (two or three people). It comes with a plastic insert, where the food is kept, but you can use two smaller containers instead. The flask is very convenient and easy to clean. Its only disadvantage is that it cannot keep food hot for more than 6 hours.
5. LunchBots 8 oz. All Stainless Steel – Vacuum Insulated Food/Beverage Bottle for Kids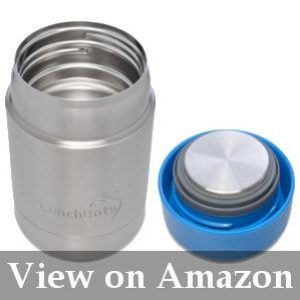 LunchBots thermal container is very compact, specifically designed to hold one kid-size serving of food. That does not mean that adults cannot use it, but it is indeed more suitable for kindergarten and elementary school children. This vacuum thermos is rather small (probably the smallest one you can find on the market) and easy to handle. Also, it will fit easily into any lunch box, bag or even a pocket of a backpack.

The manufacturer claims that this product features an exclusive triple-insulation vacuum technology. Indeed, its performance is quite good, but not the best possible that can be found on the market. It keeps food hot for 6 hours – just enough time to provide your child with a warm lunch at school. Cold food and drinks will retain their temperature for about 12 hours.

One of the distinctive features of the LunchBots vacuum thermos is that it's all stainless steel on the inside, even the lid (most other thermoses have plastic lids). With this one your food does not come in contact with plastic, which might be an advantage if you are exceptionally conscious about food safety.

The manufacturer has recently approved this vacuum lunch thermos as dishwasher-safe, so you can give it a thorough and effortless clean after each use.
Interesting Information
🏆8-ounce capacity.

🏆3-inch mouth.

🏆18/8 stainless steel.

🏆Food stays hot for 6 hours or cold for 12 hours.

🏆Triple-insulation vacuum technology.
Pros
Perfect size for a child's lunch.
The inside of the lid is made of stainless steel, as well as the jar itself.
Can be washed in a dishwasher.
Wide mouth.
The lid has small dents, where you can place your fingers to get a good grip and unscrew it easily.
Cons
The size is too small for adults.
Although it is obvious that this thermos is designed for kids, its design is quite plain and boring.
Verdict
LunchBots vacuum thermos might be appreciated by parents who need a safe container to pack lunches for their kids. There is no plastic inside the jar that can come in contact with hot food. This thermos helps food stay warm by the time of a lunch break and if it's yogurt or milk, it can stay cool even longer. It is small and easy to open and eat out of. However, it seems that the manufacturer has overlooked the design of this lunch thermos; it could have been more fun and entertaining.

6. YUMBOX Zuppa – 14-Ounce Vacuum Insulated Travel Tumbler. The Best-Rated Thermos for Hot Foods
A Thrive Home thermos is made of double-wall stainless steel with vacuum insulation. It has a wide mouth, which makes it perfect for all kinds of food and beverages. You can easily fill it up, eat out of it and clean it afterward. The inner container is seamless, so food particles won't collect and grow bacteria inside. This vacuum thermos is not dishwasher-safe, but it can be easily cleaned by hands. The lid, which is harder t clean due to a rubber seal and threading, can be washed in a dishwasher.
Thrive Home thermos has a low-profile design – a plain stainless-steel body and a vibrant lime-green lid. It has the optimal capacity to be used by both children and adults. In this thermos your hot lunch will stay warm for up to 5 hours, while your salad or yogurt will remain pleasantly cool for up to 10 hours. These are the insulating properties commonly found in middle-market vacuum thermoses and flasks.
The manufacturer advertises this thermos as an eco-friendly, money-saving solution for people who often have to eat outside of a home. There is a cute "made with love" writing at the bottom part of the jar. The thermos comes in a cardboard box with an instruction manual.
Additional Recommendations
🏆9-ounce capacity.

🏆18/8 grade stainless steel.

🏆Keeps food warm for 5 hours and cold for 10 hours.
Pros
Wide mouth.
Easy to clean by hands.
The lid can be washed in a dishwasher.
Leak-proof lid.
Backed up with a 30-day full refund guarantee.
Comes with a free e-book with 10 recipes of meals to-go.
Cons
The lid is made of plastic and does not have insulation.
A slippery lid does not provide a good grip, making the thermos quite hard to open.
Verdict
Thrive Home vacuum thermos is capacious enough to hold an average-sized lunch. It will keep food warm just till lunch time, which is quite enough in most cases. In spite of the vacuum insulation and the airtight closure system, this thermos does not provide exceptional heat retention because its lid is made of plastic.

7. MIRA Lunch Jar – A Colorful Wide-Mouth Vacuum Thermos for All Types of Food
MIRA Brands offers colorful stainless steel vacuum thermoses for all types of hot and cold meals. Both the inside and the outside of these flasks are made of high-quality stainless steel. The exterior has matte scratch-resistant powder coating. This model is available in light blue, dark blue, green, deep violet and pink.
MIRA lunch thermos is capacious enough to hold a child's lunch or a hot part of an adult's meal. This thermos is equally good for soups and non-liquid meals, such as pasta, meat, porridges, fruits, salads, etc. The lid provides a perfect seal so that nothing leaks out of the container even if it is turned upside down.
Just like all good thermoses, this one features vacuum insulation that is able to retain your food hot for 5 hours or cold for 10 hours.
Useful Information
🏆5-ounce capacity.

🏆Double-walled stainless steel construction with vacuum insulation.

🏆3-inch mouth opening.

🏆Powder-coated exterior.

🏆18/8 grade stainless steel.
Pros
Vibrant design.
Wide mouth allows you to enjoy your food right from the jar. You don't need to carry a bowl.
Premium quality stainless steel.
Scratch-resistant non-slippery coating.
Cons
The inside of the lid is plastic, not stainless steel as the rest of the flask.
Cannot be washed in a dishwasher.
Rather mediocre heat retention.
Verdict
MIRA Brand's vacuum thermos is a good choice if you need a container that keeps food warm for several hours. It works better with cold food though. The flask is made of safe, quality materials. This thermos is better to be filled only with dry foods, or homogeneous liquids since it is only hand-washable and getting all the food particles out of it manually might be quite a hassle.
Which One Top Food Thermos in 2022
Best Food Thermos Conclusions
In today's dynamic life having a proper food thermos or flask is a key to healthy eating. When it comes to choosing a vacuum thermos, it is important to know the basic features that distinguish a good one from a poor one. With the information provided in this article you will be able to do it. Perhaps, one of the best food thermoses listed here will appeal to you. Of course, there are so many other options to explore. Just remember to keep in mind the most important characteristics and take into account your personal preferences.