Are you a coffee connoisseur or you just enjoy drinking this royal beverage? If you can agree with any of these statements, you would probably like to have the best insulated coffee mug to have a cup of your favorite drink with.
View Comparison Chart
Coffee is a unique beverage that is sold in a variety of tastes and of multiple kinds. So coffee lovers buy their most preferable coffee in the special places and would not agree to substitute it with cheap examples sold in the street. That is a reason to obtain a quality insulated coffee mug and always have an opportunity to charge with energy and positive mood for the rest of the day.
Why should you buy an insulated mug for coffee? Despite the fact what coffee you like to drink, hot or ice, an insulated mug will preserve the temperature of your beloved beverage for it to be always ready for drinking.
However, not every coffee mug is safe and comfortable to use. We have prepared 7 of the insulated mugs with handles for you to be pleased with the bargain no matter what model you choose.

How to Choose Thermal Coffee Mug
If you are not a fan of drinking coffee from plastic or carton glasses, you undoubtedly need a quality insulated mug. However, not every product available on the market is worth your trust. Here are some simple tips how to choose the best coffee mug.
Capacity
Think how much coffee you drink per day. As soon as you measure this amount you can choose the capacity of the mug that can read 30 and more ounces.
Material
There are two basic materials used for coffee mugs but insulated ones are predominantly stainless steel coffee mugs with handle. However, there are also polypropylene mugs used for traveling.
Type of lid
Coffee mugs are produced with different types of lids. Some of them are sealing and leakproof, the others may be twisting, locked or have an opening to a straw. Consider how you enjoy drinking coffee and analyze what features a good lid for you should have.
Accessories
You can by a single insulated mug or get a tumble mug as a part of the drinking set. The last one may include a removable handle, extra lids, straws, a brush to clean the mug and straw, etc.
1. Thermos Stainless King with Handle – Super insulated coffee travel mug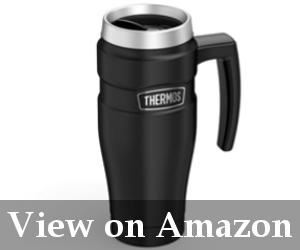 Thermos brand is one of the most trustworthy companies in the market of insulated products. It is always in search of innovative solutions in this field and this travel mug features some of them.
The coffee mug is made of high-quality double-wall stainless steel that guarantees excellent insulation. Moreover, it makes the mug durable and resistant to breakdowns.
The coffee mug from Thermos brand features a 16-ounce capacity that is enough for an adult. It is one of the best coffee mugs to keep coffee hot as its temperature retention is quite impressive: 5 hours hot and 9 hours cold.
The insulated coffee mug exterior is rather attractive. It has a contoured body shape for easy grip and a matte or glance finish depending on the model you choose. There is a plastic non-slippery handle that makes the drinking process more comfortable. The top of all coffee mugs of this model has a natural stainless steel color and there is a plastic lever lid to open and close the mug. This Drink Lock sealing lid is absolutely leakproof and is opened and closed by pushing the level for 45 degrees right or left.
Particular qualities
A quality insulated mug is always comfortable to carry as it is always cool to touch even with boiling water inside and it is resistant to sweat. People who enjoy tea can take a couple of bags with and attach to the hook provided.
The insulated Thermos work series travel mug is solid, sturdy and easy to clean. It can be washed in the warm and soapy water and its sleek design fits most of the average car cup holders. The coffee mug is very lightweight – only 1 pound and will be a great assistant during long-distance travels.
Pros
Quality insulation;
No leakages;
Easy to use;
Durable;
Lightweight;
Portable;
Beautiful design;
Lightweight.
Verdict
Thermos brand does not lose its excellent reputation of producing quality and reliable insulated products. This double walled stainless steel coffee mug copes with its main task of keeping the initial temperature of the liquid inside for a long time perfectly. There is a comfortable lever handle that does not leak and an appealing modern design too.

2. Contigo SnapSeal Byron – Excellent vacuum-insulated travel mug
Contigo brand has patented a unique Autoseal technology to create the best coffee mugs that never spill even between sipping, but this model offers a new experience to its users. The coffee mug is made of BPA-free stainless steel and features excellent temperature retention. You can preserve the temperature of the hot coffee up to 7 hours and cold coffee up to 18 hours[/su_label] It is achieved due to a unique Thermalock Vacuum insulation technology used.
The main feature that differs this coffee mug from others is an exclusive snapseal lid. It is a single plastic leakproof lid with a button. You need only one hand to open the lid for drinking as it is enough to press the button once. As soon as you close it, the insulated mug becomes absolutely resistant to spills and leakages.
The exterior of the coffee mug is very attractive. You can choose the body of one of 9 bright colors and enjoy the grip thanks to the plastic all round that makes it non-slippery.
Useful Opportunities
The 20-ounce mug from Contigo brand has a good capacity and is easy to maintain. There is a dishwasher safe coffee travel mug lid and a hand wash body. The model is quite sturdy with a total weight of 5.1 ounces and is produced in the USA that is a guarantee of high quality.
Pros
Solid;
Insulated;
One-hand operation;
Maintains the temperature for long hours;
Spill and leakproof;
Safe;
Easy non-slippery grip.
Cons
The top is hard to screw on because of the sealing.
Verdict
People always prone to trust manufacturers whose production is located in the world's leading countries like the USA and Canada. Contigo is undoubtedly a company that never compromises on the quality of insulated mugs produced and looks to new effective ways how to make their products outstanding. This snapseal mug is one of a few leakproof and quality products worth your trust.

3. MalloMe 30 oz Water & Coffee Travel Mug – Premium insulated coffee mug with lid and handle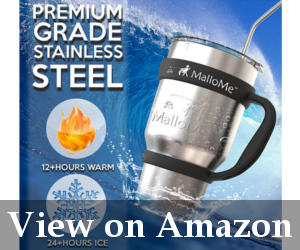 Do you want to get not only a coffee mug but a full travel set that will make your coffee breaks a real pleasure? MalloMe has put effort to create a product that will appeal to a huge number of people thanks to its unique characteristics.
This 6-piece set has a 30-ounce capacity so that you could enjoy your favorite coffee for a whole day. The tumbler has two walls to guarantee great insulation properties. As a result, the temperature retention of this insulated mug beats all the possible records: 12 hours and more for hot liquids and 24 hours and more for cold ones. In addition, depending on the beverage you take with, hot or cold, there are two tumbler lids to choose from. Cold drinks are closed with a leakproof lid with sealing and hot ones – with a sliding lid for better reliability. Unique construction of the leakproof lid with a flipping closure and a lip for opening allows keeping your drink fresh for a long time and prevent spills.
Every MalloMe stainless steel insulated tumbler was built to last and please you with your favorite drink. Made of 18/8 stainless steel it is not subjected to rusting and has a narrow and tall design to fit any car cup holder.
Interesting Opportunities
In addition to a travel mug that keeps coffee hot the longest and two lids you also get a tumbler handle for sturdiness and comfortable grip, a stainless steel straw to enjoy your coffee all day long and a cleaning brush to keep the straw clean. It is a guarantee that your drinking experience will always be pleasant.
With only 1.25 pounds of total weight, this great coffee mug can be a reliable assistant during distant trips and long work hours in the office.
Pros
You buy a drinking set instead of a single mug;
Long temperature retention;
Lightweight;
Sturdy;
Portable;
Long-lasting;
Easy to clean;
Leakproof.
Cons
Lids are made of plastic.
Verdict
This MalloMe no-spill coffee mug is one of the best-rated models. It is not surprising that this model has received so many good reviews as it is a full travel set, not only an insulated mug. The greatest benefits of this coffee mug are extra-long temperature retention properties and durability – you will love it as soon as you use it for the first time.

4. Insulated Coffee Mug & Beer Mug – Super portable coffee mug used for beer as well
Fans of not only coffee but also stronger beverages like beer would be happy to hear that Bar Brat brand has created a reliable insulated mug to drink both these drinks. It is difficult to imagine a better gift for men as this mug will meet all the expectations.
The beer and coffee mug is made of 304 stainless steel and is provided with double-wall insulation to preserve the temperature of the drinks poured into it. Whether you like a cool beer or hot coffee, the mug will justify your expectations and does not sweat so it will stand stupidly on any surface. Even if the body of the insulated mug gets warmer because of high coffee temperature, the handle will always remain of the room temperature. You can take the coffee mug everywhere you go and enjoy your favorite drinks for a long time as the capacity of this insulated cup is 16.9 ounces. That is enough to pour a full pint of beer.
What makes this coffee mug nice for travels? It is a bonus lid included. It fits snugly and prevents the content from spills.
This beer and coffee mug constitutes a wonderful present for real men. In addition to its versatility and durability, you will get premium protected packaging and a nice bonus: an ebook with 101 cocktail recipes delivered by email after the order is shipped.
Features and Specifications
Another indispensable advantage of this mug that will be appreciated by men most of all is being safe both for a freezer and dishwasher. Only imagine how you enjoy your super cold beer and do not even need to wash the insulated mug.
Get this 4.8-ounce mug for coffee and beer and you will get an elegant and stylish product worth your attention.
Pros
Insulated;
Provided with a tight lid;
Dishwasher and freezer safe;
Durable;
The handle remains of the room temperature;
Nice capacity;
Masculine design;
Versatile;
Excellent quality.
Cons
Does not keep the liquid cold/hot for a very long time.
Verdict
As it is not difficult to understand the biggest number of reviews on this beer and coffee mug are from men and almost every one of them loves it. And it is not surprising at all to read about this top-rated insulated coffee mug: nice temperature retention, great quality, and exclusive design make it a must-have accessory of every modern gentleman.

5. Livin' Well Tumbler Travel Mug – Effectively insulated coffee mug with handle
A nice coffee mug guarantees that you will get a perfect taste of your favorite drink no matter whether it is cold or hot. This tumbler mug from Livin' Well brand is a finding for people who enjoy drinking on the go as it does not allow the liquid contained in the mug to splash. Its highest quality keeps the temperature of the drink rather long and does not change the original taste of the beverage.
The coffee mug is made of 18/8 stainless steel. It is a double-wall insulated mug that guarantees excellent temperature retention: up to 8 hours hot and 24 hours cold. There is no need to look for better characteristics as all insulated mug care guidelines indicate that you should not keep a drink in the mug more than 24 hours.
The form of the mug is designed in the way to offer a non-slip grip and reliable handle fit. A steel insulated mug is sold only in its basic color but you can prefer color of the removable ergo handle from 4 available ones. Both the handle and the mug body remain of the room temperature and do not sweat.
Useful Information
Together with a durable mug you also get a sliding splash-proof lid that is opened with a single finger. It is provided with a rubber gasket to seal tightly. The insulated mug allows drinking from it both with and without a straw, though two stainless steel straws are included in the set.
The coffee mug has a nice capacity of 30 ounces to fulfill the requirements of very thirsty people and is absolutely safe for the health being BPA-free.
Resistible to drops and collisions this cup will serve you a lifetime if maintained carefully.
Pros
Maintains the temperature of the drink up to a whole day;
Includes necessary attributes;
Solid and sturdy;
Reliable removable handle with a two-ring design;
Versatile;
Durable;
Interesting design;
Great size.
Cons
Heavy;
A rather wide opening for drinking.
Verdict
This model from Livin' Well brand belongs to cute coffee travel mugs thanks to its stylish design and versatility. Suitable for both cold and hot drinks it features bright handles in red and light green to attract the envious glances of other coffee lovers. Moreover, there are many other benefits like excellent temperature retention and accessories too.

6. GSI Outdoors Infinity Backpacker Mug – One of the best travel mugs with handle
If an eye-catching design of the coffee mug means nothing to you, but you look for a practical model to use during your journeys, pay attention to this GSI backpacker mug. It does not guarantee you long-time insulation as there is only a lightweight sleeve around it. But it will prevent your insulated mug from dirt and can be easily washed.
The coffee mug is made of quality BPA-free polypropylene that makes it extremely lightweight-only 3.5 ounces. There is a plastic sealable sip lid to prevent the liquid from spills and leakages. The lightweight insulated cup can keep 17 ounces of coffee or tea and retain their warm temperature for some time. A sleeve is made of a ballistic cloth that is durable and strong and has a collapsible tarpaulin handle to take a minimum of space in the backpack. There is a non-slip footing for sturdiness as well.
Interesting Information
You should not look for some exquisite features in this coffee mug as there are none of them. However, its simplicity and little weight make it the best assistant during long-distance travels.
Pros
Critter sealing lid;
Washable sleeve;
Collapsible handle;
Super light;
Safe for health;
Good capacity;
Perfect for travels.
Verdict
Not that insulated and durable this coffee mug may seem to follow behind its closest competitors. But what exactly is required from a good travel mug? Good capacity, reliable sealing and keeping the temperature for some time is enough to buy this extremely lightweight cup for a backpack.

7. Contigo AUTOSEAL West Loop – An example of the best thermo-serv insulated coffee mugs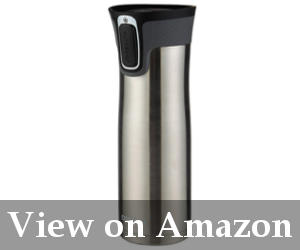 Contigo brand is gradually taking leading positions in the production of quality insulated products next to other famous brands. Thanks to their exclusive patented Autoseal technology their coffee mugs, and this one, in particular, are incredibly popular nowadays.
According to Contigo brand, there is a huge difference between leaks and spills. So the manufacturer decided to create a coffee mug that will prevent you from experiencing both of these troubles. It is achieved by a sealed lid that constitutes one connected piece. It features a lock, an autoseal button that seals the opening after you have made a sip. And is reliably twisted inside the coffee mug to make it leakproof. Moreover, it is safe for a dishwasher.
Particular qualities
The body of the insulated mug is made of high-quality stainless steel with a finish of many different colors. There are two walls to guarantee that this insulated mug will keep coffee hot up to 5 hours and cold up to 12 hours.
The insulated mug is available in three sizes and offers one-hand drinking. You can sip your favorite drink as soon as you press the button. It is a number one choice for people who travel much on a daily basis. And they need a long-term and safe mug for drinking.
Pros
Additional lock on the sealing lid;
Solid;
High quality;
Multiple color schemes;
Versatile;
Durable temperature retention;
Spill and leakproof;
Long-lasting.
Cons
Rather heavy;
Only hand wash of the body.
Verdict
This model is a perfect choice unless you look for the best-insulated coffee cups with handles. The body of the insulated mug is non-slip and easy to grip. Whereas an opportunity to drink coffee us in only one hand seems rather appealing. A quality product from Contigo brand with unique patented technology.
Which One Top Insulated Coffee Mug in 2023
Insulated Coffee Mug: Conclusion
Prevent yourself from the deep analysis of the coffee mugs offered for sale as we have already done this tough job. Top 7 models offered above are examples of the best insulated coffee mugs worth your attention and trust. Possessing the most outstanding features each of the models offered above will improve your coffee drinking experience. Give yourself fresh drink daily.